Activity 4: Weaving a collective narrative
Description
As a way to shift towards creating a more collective narrative, participants will plan a specific lesson to use in their classroom context and ideally connect it to a broader event or internationally recognized day. Lessons can then be posted on the TIGed Activities database and shared with educators around the world.
---
Task
Your overall objective in this final phase is to create a lesson plan that works in the context of your classroom. Please select from the following options and resources as a source of guidance for the ultimate direction you would like to pursue:
Option 1: Giving voice through exhibition opportunities. Using select contents submitted from yourself and other course participants, create a final representation that expresses the works submitted from your perspective. This can be in the form of a digital collage, iMovie video, PowerPoint presentation or any other digital media of your choice. Use an appropriate medium to share this final outcome (for example, you can post it on flickr, youtube or the Global Gallery. This final work can be shared with your students as a source of inspiration for your lesson plan and classroom project.
Check out the Adobe Youth Voices Exhibit Toolkit (http://youthvoices.adobe.com) as a resource to review and share with your students to assist them with organizing an exhibit for their works.
​
Option 2 - Connect to an International Day: Think about your classroom and upcoming calendar year. Identify an upcoming International days of significance where you might be able to organize an activity with your students on theme of intercultural exchange.
Some examples could include:
Option 3 - Find another classroom (or a few) and create a joint lesson plan involving image-based digital exchanges where students in different classrooms are sharing experiences through images.
Submit your lesson plan! Post your Lesson Plan in the Classroom Lesson Plan collection. You are also invited to share the final version of your lesson plan on the TIGed activities database with our community of educators.
Submit reflections on Activity Four in your HP Catalyst Academy profile.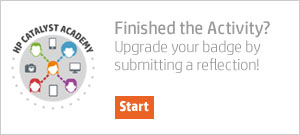 ---